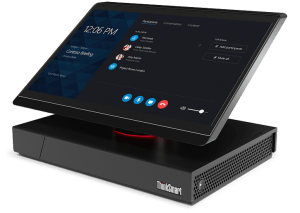 Meet ThinkSmart Hub 500, the all-in-one, purpose-built Skype Room System. Simple to set up and use, this compact conferencing solution enables meetings to start faster—without connecting messy cables to individual devices. With its 360° rotatable touchscreen, far-field mics, and crystal-clear audio, the Hub 500 makes in-room or remote collaboration easier and more rewarding for all. Hold meetings that get things done
ThinkSmart Hub 500
The smarter way to collaborate
Say hello to ThinkSmart Hub 500. Easy to deploy and use, this all-in-one, purpose-built Skype Room Systems device is the key to more efficient meetings. Start on time, every time with one tap of your finger. Hear what everyone has to say, loud and clear. And see the difference this makes to your productivity—and bottom line.
Features

Because everyone's time is valuable
Meetings are time consuming enough without trying to get the technology to work properly. The average delay is around 10 minutes, but with the ThinkSmart Hub 500, you can avoid costly late starts. As audio and video is already connected, simply hit one button and everyone can begin collaborating right away.
A better way for teams to work together
A key feature of the ThinkSmart Hub 500 is its eye-catching anti-glare, anti-smudge display. Rotatable through 360°, anyone within arm reach can take and give control instantly, enabling meetings to run more smoothly—and more fairly. There's also a 3-color LED ring that lets everyone in the room know the status of the call.
Simplify meetings, worldwide
Whether you're a host or attendee, the ThinkSmart Hub 500 will make your life easier. Designed with small to medium-sized conference rooms in mind, it's available in 180 countries. That way, everyone in your organization will be familiar with the system wherever your business takes them.
Enhanced security and manageability features
When it comes to security and practicality, the ThinkSmart Hub 500 has it covered. Windows 10 IoT Enterprise provides intelligent enterprise-grade protection, while the Intel vPro processor helps you to maintain remote devices, and the built-in Skype Room Systems app has a universal lockdown feature. Skype for Business is a universal locked-down app. In addition, an innovative cable management door secures physical ports and prevents cables being accidentally disconnected.
Specifications
| | |
| --- | --- |
| Processor | 7th Generation Intel® Core™ i5 7500T (2.70GHz 6MB) |
| Preloaded Software | Windows 10 IoT Enterprise Microsoft Skype Room Systems |
| Memory | 8 GB (2 x 4 GB) DDR4 2400 MHz |
| Display | 11.6″ touchscreen, 360° rotatable, 300 nits 1920 x 1080 resolution, 16:9 aspect ratio Anti-glare and smudge resistant |
| Built-in Storage | 128 GB SSD |
| Graphics | Intel® HD Graphics 630 |
| Audio | Dual 4W Dolby® Audio premium tuned speakers 2 x far-field microphone array |
| Ports & Slots | HDMI-in, including capture card 2 x HDMI-out Intel® RJ-45 Ethernet 4 x USB 3.0 (Type A) 3.5 mm combination microphone / audio out stereo jack |
| WiFi | Intel® Dual Band Wireless 8265 802.11AC (2 x 2) Bluetooth® 4.1 |
| Dimensions (L x W x H) | 279 mm × 193 mm × 176 mm / 10.98″ x 7.60″ x 6.93″ |
| Weight | 2.5 kg / 5.5 lb |
| Sensor | IR-based human proximity sensor |
| Cable Management | Secure cover and latch |
| Buttons & Indicator | HW power button with LED & reset function Hinge neck ring LED for Skype status |
| Power Supply | Think Power Connect & adapter 90W, auto-sensing 88% Efficiency |
| Security | Kensington Lock for chassis Secure cable management door |
| Certification | Skype for Business Group Certified |
About Lenovo ThinkSmart Hub 500
Lenovo ThinkSmart Hub 500 is a Microsoft Skype Room Systems based conference room device.
The Hub 500 is an all-in-one integrated unit with a 11.6-inch touch panel that is capable of rotating 360 degrees. The unit also has integrated microphones and speakers. The Hub 500 ideally sits on top of a conference room table and provides Skype for Business based audio, video and content share capabilities.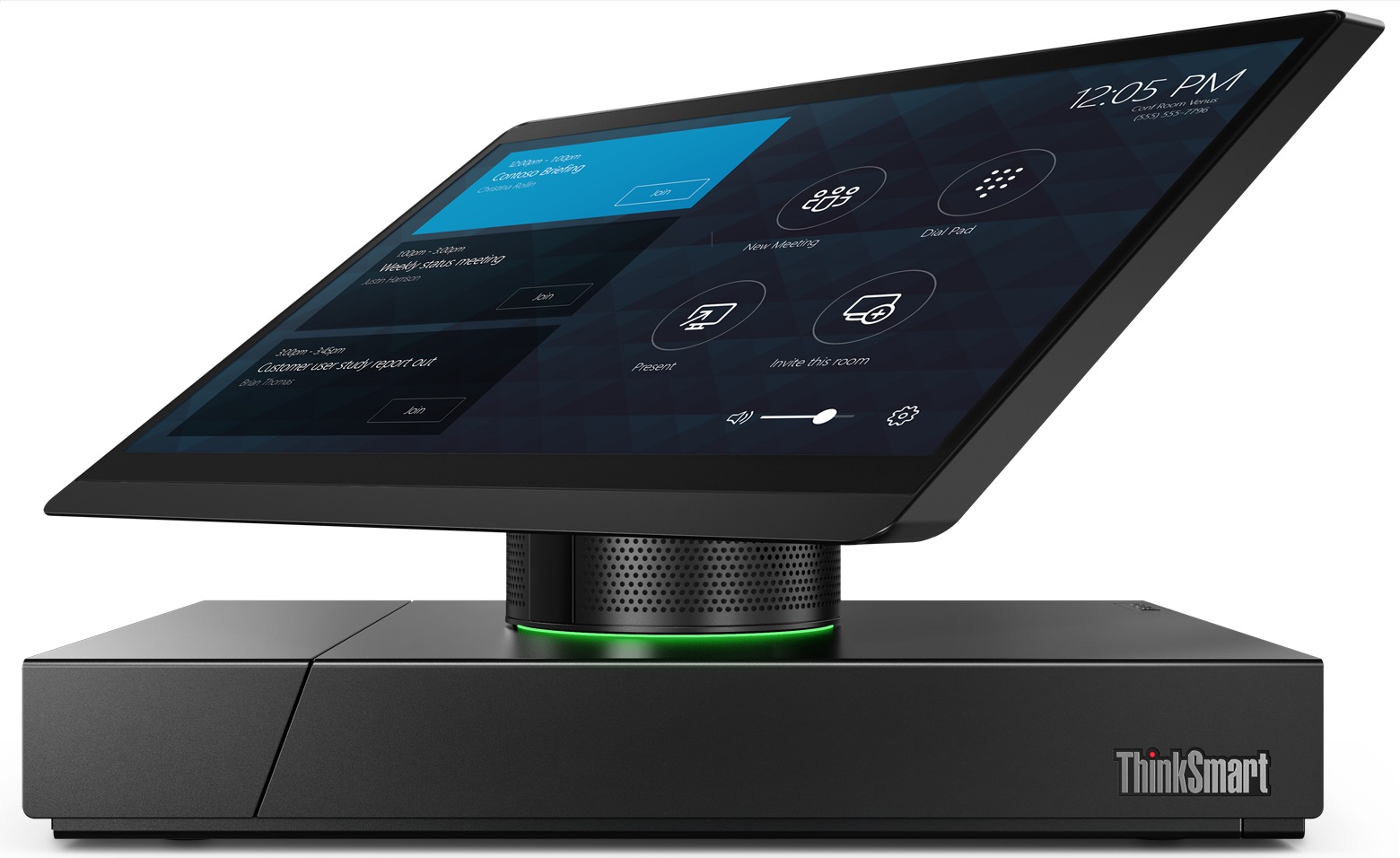 FAQ List
---
What size conference room is best suited for the Hub 500?
The Hub 500 is ideal for small to medium size huddle, conference and meeting rooms (4 to 6 or 6 to 8 people). The two microphones on the Hub 500 are tuned for a 360-degree audio capture. The ideal room size for Hub 500 is 15 by 15 feet (4.5 by 4.5 meters) but is designed to support a 20 by 20 feet (6.1 by 6.1 meters) space.
---
Does the Hub 500 include all the necessary software pre-installed?
Yes, the Hub 500 comes with factory imaged Windows 10 IoT and installed with all the necessary software. The only customer requirements are Skype for Business or Lync credentials to run on the Hub.
---
How are drivers, software, and BIOS updates delivered?
All software updates and driver updates will be delivered via Windows update. BIOS updates will need to be manually done by downloading from the Lenovo support portal..
---
Do I need to install an antivirus on the Hub 500?
By design, Windows 10 IoT is secured via Windows Defender. Organizations can however choose the best protection they need based on their requirements.
---
How to manage the Hub 500 via Microsoft Operations Management Suite (OMS)?
Please refer to: Microsoft Technet: Deploy Skype Room Systems v2 management with OMS
---
Does the Hub 500 support PXE (Preboot eXecuation Environment) boot?
Yes, the Hub 500 supports PXE boot.
---
What are the network bandwidth requirements to have an optimal audio and video experience?
| | | |
| --- | --- | --- |
| Type | Recommended Download | Recommended Upload |
| Calling | 100kbps | 100kbps |
| Video Calling / Screen sharing | 300kbps | 300kbps |
| Video | 1.5Mbps | 1.5Mbps |
| Group Video (3 or more participants) | Greater than 2Mbps | 1.5Mbps |
---
Does the Hub 500 support Wi-Fi connection?
A wired Ethernet connection is required to connect to the network from the "Skype" account. Wifi can be used from the "administrator" account. Please refer TBD..
---
What is the list of the supported accessories, for example: cameras, extenddid smartphone?
The Hub 500 has four USB 3.0 ports and supports any Skype for Business Certified Audio/Video peripherals.
For more information on Microsoft certified devices, please visit:
---
Does the Hub 500 use Microsoft Surface Pro tablet?
No, the Hub 500 has an integrated 11.6" touch panel and does not use the Microsoft Surface Pro series tablets.
---
Does the Hub 500 support wireless display?
The Hub can be manually configured to connect to a compatible Miracast or WiDi display from the "administrator" user account. Please note that there is no option to configure wireless displays on the "Skype" account from which Skype Room Systems is recommended to run from. Please refer to Initial Setup to know more about accounts in the Hub 500.
---
How are the external cables secured to the Hub 500?
The Hub offers a cable management solution in the back of the unit. This solution keeps all the cables like HDMI, USB and Power cables securely connected to the unit. For more information…. TBD.
---
What are the supported external cable diameters by the cable management bay "arm" which keeps the cables securely locked?
| | |
| --- | --- |
| Cable Type | Supported Diameter Range |
| HDMI | 5.0 to 7.5 mm (0.xx to 0.xx inches) |
| USB | 3.5 to 6.0 mm (0.xx to 0.xx inches) |
| Power | 3.5 to 4.5 mm (0.xx to 0.xx inches) |
---
Is the Hub 500 compatible with Mac?
ThinkSmart Hub 500 runs the Microsoft Skype Room Systems software on a Windows 10 IoT Enterprise OS and the Skype for Business clients are supported on Windows, Android, Mac and iOS. The HDMI Ingest to share content via the Hub 500 supports all the OS mentioned above. Refer Wired HDMI content sharing.
---
Can I use the Hub 500 as a PC?
No, the Hub 500 is an appliance and is designed to be a Skype based table-top conference room audio-visual (AV) device.
---
Is there any Lenovo specific software installed on the Hub 500?
None, the Hub 500 comes with Windows 10 IoT Enterprise OS and Microsoft Skype Room Systems Software pre-installed along with all the necessary drivers required to drive the Hub 500. There are no other software installed.
---
Can the Hub 500 work with HDMI extenders via ethernet?
Yes, the Hub 500 is a standard HDMI complaint device and has been tested to work with products like AMX DXLink HDMI transmitters and receivers.