Complete Turn-Key Office Relocations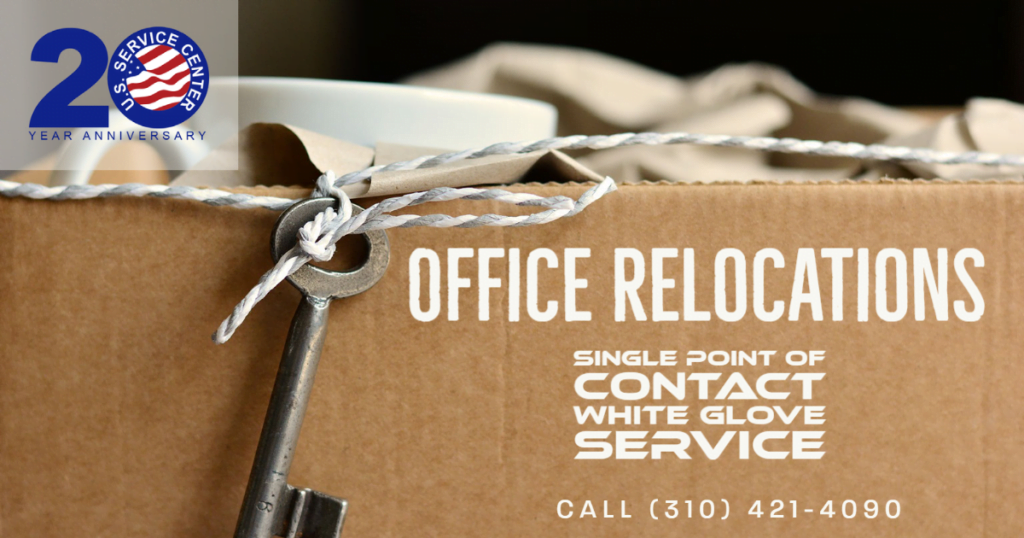 As with any business activity, planning and organization are basic components to a successful office move, and time means money. As a full service commercial mover, US Service Center is dedicated to providing economical, turnkey office moving, storage, and IT services.
An office mover with US Service Center will offer:
-> 5-star rated office move consultants who plan and manage every detail
-> A single point of contact through a dedicated move coordinator
-> White glove crews who pack, move and transport your contents
-> Office equipment movers who provide complete IT disconnect and reconnect services
-> Office furniture movers skilled at modular systems furniture disassembly and reassembly
-> Secure file relocations and offsite record storage
-> Your office contents unpacked in their precise locations at the new office with minimal down time
-> Post-office move cleaning and polishing
-> Prepare new office for internet and data services
-> Perform all necessary cabling including structured cabling in the new office
-> Installation of new wireless services in your new offices
-> Setup and move all internet services, voice services, and data services
-> Move all IT equipment with minimal downtime
-> Setup, move, and install all your workstations
US Service Center's Commitment as Your Office Mover
Accountability means superior quality service. It means taking care of your office relocation from origin to destination. It means dedicated people working their hardest to keep you satisfied. Everyone at US Service Center is accountable to you, every step of the way. That is our commitment.
About US Service Center
With movers in California, Washington and Oregon, in addition to a worldwide network of agents, US Service Center expertly manages residential, commercial and international moves efficiently and to customer satisfaction. Discover the US Service Center difference as you relax and turn your move over to us!