Endpoint Detect-and-Response (EDR)
Endpoint detection and response (EDR), also known as endpoint threat detection and response (ETDR), is an integrated endpoint security solution that combines real-time continuous monitoring and collection of endpoint data with rules-based automated response and analysis capabilities.
Why have EDR vs a traditional anti-virus?
The primary functions of an EDR security system are to:
(1) Monitor and collect activity data from endpoints that could indicate a threat
(2) Analyze this data to identify threat patterns
(3) Automatically respond to identified threats to remove or contain them, and notify security personnel
(4) Forensics and analysis tools to research identified threats and search for suspicious activities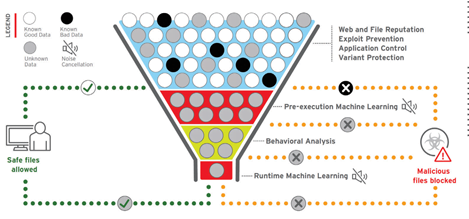 PROTECTS AGAINST
Malware
Ransomware
Dangerous websites
Spam
Phishing Attacks
Data Theft
Viruses
Spyware
Targeted Attacks
THREAT PROTECTION
High-Fidelity machine learning (pre-execution and runtime)
Behavioral analysis (against scripts, injection, ransomware, memory, and browser attacks)
File Reputation
Web Reputation
URL Filtering
Device Control
Firewall
Application Control
Protection your organization with Endpoint Detect-and-Response (EDR). Contact us.
If you want even more protection, check out our XDR solutions here.
Please note, coverage my differ by operating system.