Dispelling Common Myths about Online Backup of Microsoft 365
Office 365 Backup – How We Can Help You Protect Your Microsoft 365® Data
Who Safeguards Your Data?
Your business is constantly producing data you need for operations and growth. So who is responsible for protecting and backing it up?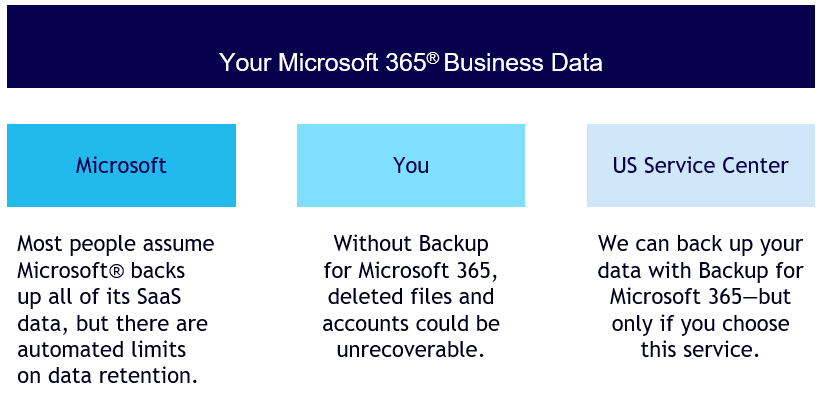 Myth #1:
Microsoft Backs Up All My Data
Your business uses Microsoft 365 apps to do business, so Microsoft protects all your data, right?
Unfortunately, no. Microsoft focuses on delivering critical services your business uses.
Microsoft does not protect you against permanent deletion of files or accounts, whether accidental or intentional.
Myth #2:
Your Managed Services Provider Can Recover Anything
We can help you recover from backup challenges like these, right?
1. You need to recover permanently deleted files at any time.
2. You need to recover soft-deleted files after 90 days.
3. You need to recover departed employees' accounts after 30 days.
4. You need to restore maliciously deleted email accounts or files.
5. Ransomware attack freezes your access to your data.
6. A hacker is controlling your Outlook® accounts and sending emails in your employees' names.
We cannot help you recover these files and accounts unless you have Backup for Microsoft 365.
Myth #3:
My Employees Always Do the Right Thing
I know my employees. They wouldn't try to hurt my business, would they? While most data loss is accidental, employees can delete data to sabotage companies—especially if they have an axe to grind, such as having been demoted or terminated.
Myth #4:
Online Backup Is Too Expensive
Backup for Microsoft 365 is just another IT cost I have to cover, right?
• Yes, but it only costs a few dollars per user per month
• There's no on-premises hardware to maintain
• It will pay for itself if you have a security incident
Myth #5:
Online Backup Puts My Files at Risk
Putting my files in the cloud means they can be hacked more easily, right?
Cloud data is more secure than laptop or server data.
Myth #6:
Online Backup Is Hard to Use
My small business already has too many IT tools to use.
Won't this complicate day-to-day operations?
We will install and manage your Backup for Microsoft 365 for you.
Gain the peace of mind of a fully managed solution.
---
Benefits
> Exchange: retention for 7 years; backup runs up to 6 sessions per day.
> OneDrive: retention for 7 years; backup runs up to 4 sessions per day.
> SharePoint: retention for 7 years; backup runs up to 4 sessions per day; role-definitions can be restored only in root site (or site collection); and meta-data of SharePoint files can be backed up and restored.
> Data Security: all data processing and storage is kept regional.
---
We Back Up Your Data in Your Region
Back up your Microsoft 365 data in your choice of more than 30 data centers, located across 17 countries and more than four continents. We have multiple locations in the US, Europe, Latin America, and Australia.